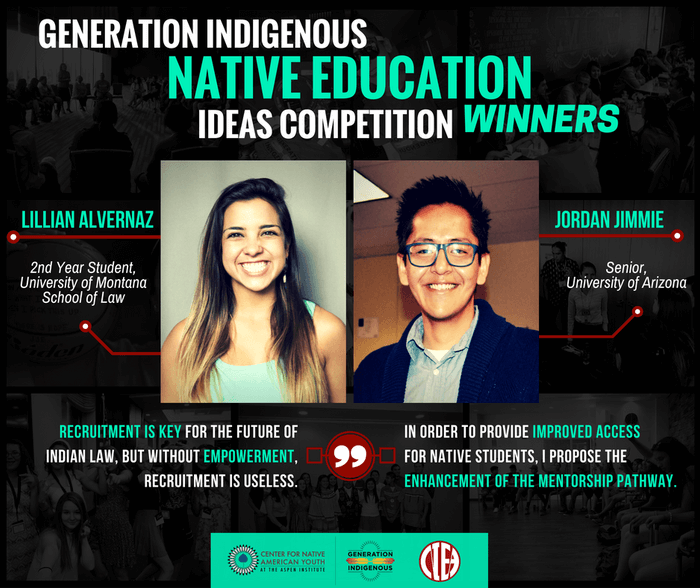 Alvernaz and Jimmie Win Gen-I Native Education Ideas Contest
Congratulations to Lillian Alvernaz (Sisseton-Wahpeton/Assiniboine) and Jordan Jimmie (Navajo Nation), the two finalists of the Generation Indigenous Native Education Ideas Competition! Both finalists were awarded an all-expense paid trip to Reno, NV to present their ideas at the 47th Annual National Indian Education Association's (NIEA) Convention and Trade Show.
Alvernaz is a second year law student at University of Montana School of Law who focused her big idea for Native Ed on recruitment and empowerment, specifically for youth interested in law careers. "Recruitment is key for the future of Indian law [as a profession], but without empowerment, recruitment is useless," wrote Alvernaz. She proposed creating a network of Indian law professionals, law students, and younger students aspiring to be in the field as a means of mentorship and support. Alvernaz is particularly enthusiastic about starting a network in Montana. There are seven reservations and seven tribal colleges in Montana, and the state is home to a law school with an Indian law program and clinic. One of Alvernaz's recommendations included having the state and Tribes in the area contribute to scholarships for Indian students to continue their education. "It is vital for Indian students to continue their education in order to rebuild their tribal nations," she wrote.
Jimmie, an undergraduate senior at the University of Arizona, had several ideas for Native students related to Science, Technology, Engineering, and Mathematics (STEM) fields of study. His focus was on student retention and ensuring that the education system encouraged Native students to not only complete their undergraduate degrees, but also pursue Masters' and Doctorate programs. "I faced adversity throughout my degree program due to the lack of preparation in high school to pursue a STEM degree, as well as the lack of communal support within the department itself," he lamented. "I propose the enhancement of mentorship pathways from high school to college, then from college to graduate school." Additionally, Jimmie proposed expanding financial support for American Indian students attending research intensive universities.
To see Lillian Alvernaz and Jordan Jimmie present their ideas, register for the 2016 NIEA Convention and Trade Show, taking place October 5th-8th. For more information, click HERE.