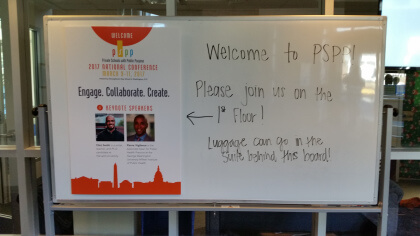 Connecting with Private School Communities at the PSPP Conference
On March 11, Center for Native American Youth staff attended the Private Schools with Public Purpose (PSPP) Conference hosted by Georgetown Day High School (GDS) in Washington, D.C. Held over three days, the PSPP Conference convenes key individuals from the private school community to meet with community partners, non-profits, foundations, businesses and other entities that can support students.
At the conference, CNAY staff held a workshop, Engaging and Partnering with Tribal Nations, to educate new stakeholders involved in private schools around the country about Indian Country, Native youth priorities, and ways to get involved. CNAY introduced our work as a resource exchange platform between Native youth and programs, as well as our role in managing the National Native Youth Network of the Generation Indigenous initiative. Workshop attendees, many of whom were involved in their respective school's community service programs, received advice on how to engage Native students within their school communities and were encouraged to plug into CNAY's network of Native youth.
Following CNAY's workshop, staff attended a workshop by Faith Roessel, parent of GDS alumnus and 2016 Champion for Change Sam Slater, about her family's service learning trip program at Georgetown Day School to the Navajo Nation. Accompanied by her son, Aaron Slater, they discussed how their service learning trip has transformed the Navajo Nation, Pueblo villages, and urban Indian communities into DC students' classrooms to create allies for Indian Country. Faith discussed the common stereotypes faced by indigenous peoples around the country and how bridging connections and creating relationships can help dismantle those stereotypes.
For opportunities to connect with Native youth in your school communities, please contact us at cnayinfo@aspeninstiute.org or via phone at (202) 736-2905.