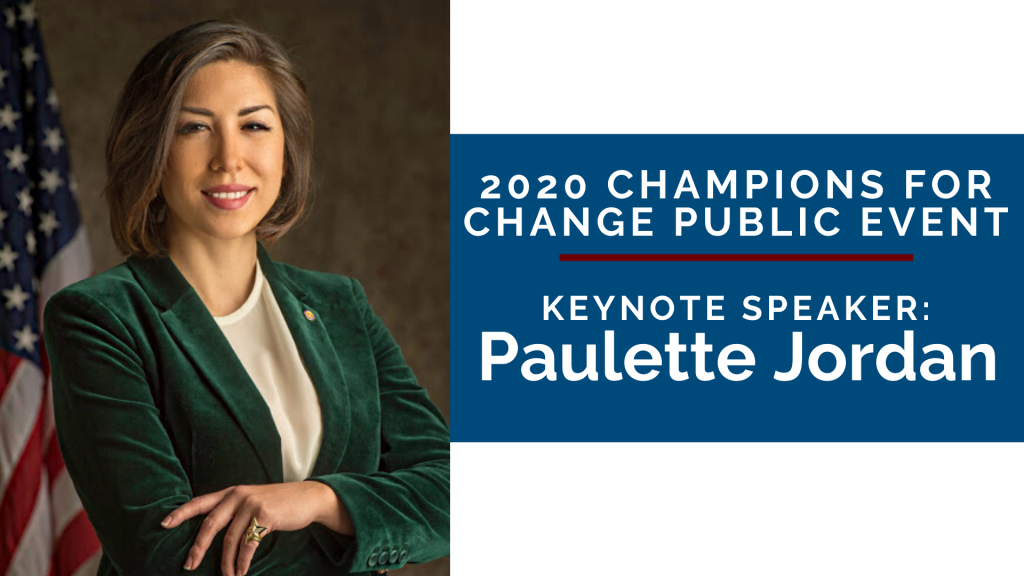 Join Keynote Speaker, Paulette Jordan, at the 2020 Champions for Change Public Event
Join us and hear the inspiring story of the 2020 Champions for Change Public Event keynote speaker, Paulette Jordan. Paulette is a member of the Coeur d'Alene Tribe, a United States Senate candidate for Idaho, a former state house representative, and a champion for youth. She will provide keynote remarks at the Aspen Institute on the importance of lifting up youth leaders and the power of positive change in communities.

The public event will feature a youth panel discussion with the 2020 Champions for Change to talk about issues such as revitalization of language and culture, advocating for gun control, destigmatization of mental illness, implementing traditional coping mechanisms for intergenerational traumas, and increasing visibility and Native storytelling.

The Center for Native American Youth, Champions for Change and Paulette invite you to join us for a truly inspirational event.
---
Panel Discussion with 2020 Champions for Change
with Keynote Speaker Paulette Jordan
Tuesday, February 11, 2020 | 12:00 – 1:30 PM
The Aspen Institute
Smith Conference Room | 8th Floor
2300 N Street
NW
Washington, DC
20037

*Lunch provided

RSVP here to attend the panel discussion.