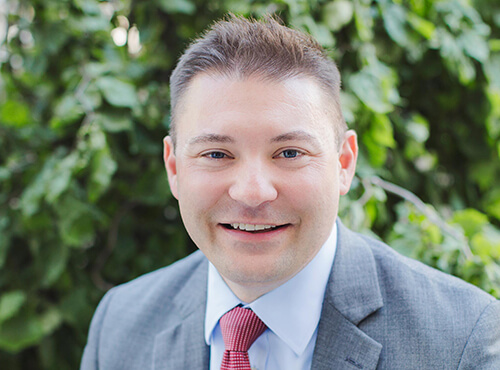 Pride Month Q&A with CNAY's Erik Stegman
CNAY Staff sat down with Executive Director Erik Stegman to chat about his work with LGBTQ+ youth and his experience as a Native and LGBTQ+ professional. Erik is Carry the Kettle First Nation (Nakoda) and serves as the Executive Director at the Center for Native American Youth.
Before joining the CNAY team, Erik led field outreach and advocacy for the Poverty to Prosperity program at the Center for American Progress. Before American Progress, he served as Majority Counsel for the U.S. Senate Committee on Indian Affairs where he led the development of the Stand Against Violence and Empower (SAVE) Native Women Act, signed into law as part of the Violence Against Women Act Reauthorization of 2013. Before joining the Senate, Erik was appointed in 2011 to serve as Policy Advisor at the U.S. Department of Education's Office of Safe and Drug-Free Schools.
Can you tell us about how your identities as a Native and LGBTQ+ person has shaped your work and personal goals?
They're both very central to who I am and the work I've done. I came out of the closet when I was 16 years old in 1998 and went on to work as a community organizer in the LGBT movement helping students organize gay-straight alliances at their schools. Throughout my years as an LGBT organizer, I learned some of my best lessons in educating allies, building coalitions, and creating safe and supportive spaces. I carried all this experience into my work with tribes and continue to do so today. I think the most important thing I've learned about being gay and Native is that everything you learn about how to create social change contributes to your career as an advocate, no matter the community or identity. I'm very proud of the Native and LGBT mentors who have contributed to who I am today.
Can you tell us more about your work with the National Congress of American Indians on creating a Two-Spirit task force to address disparities in health, employment, and bullying?
I was really proud of NCAI for creating this new task force a couple of years ago. I think it says a lot about how much this issue has moved forward in Indian Country. Throughout my career in tribal communities, I've worked with so many inspiring Native LGBT and Two-Spirit community members, but they have rarely had platforms to discuss their identities and the resources they need. The new task force at NCAI is an important step in encouraging dialogues with tribal leaders about the importance of this rich diversity of tribal identities and their important cultural foundations. Today, we work with other partners to highlight resources, discuss resolutions, and other important topics affecting Native LGBT/Two-Spirit people.
What do you believe are the biggest obstacles that LGBTQ+, Native youth face, and what are you seeing youth do in their communities to overcome those obstacles?
One of the biggest obstacles is the lack of access to cultural knowledge about these identities. For so many of our cultures across Indian Country, Native LGBT and Two-Spirit people had very particular cultural roles and responsibilities, many of which were very different than they are today after colonization. Institutions like the boarding schools did a lot to dismantle these cultural roles. In addition to seeking out information about their identity within their tribal nation, so many LGBT and Two-Spirit Native youth struggle with post-colonial homophobia and transphobia in their communities. Native youth are doing a lot to educate their schools and their communities about the cultural strength they bring to the table and I see a lot of change happening community-by-community, school-by-school.
How do you see LGBTQ+, Native youth playing a role in larger movements such as Pride Month?
The invisibility of our people is always one of the biggest challenges we face in any of the work we do to serve our tribal communities. Native LGBT and Two-Spirit youth have so much power in broader movements by being visible and educating non-Native people about our identities. The more we can share about our cultures, the deeper the understanding of those around us. Thanks to our youth leaders across the country, more and more LGBT people are learning about Native people and seeing them as an integral part of their movement.
What advice would you give to LGBTQ+, Native youth who are looking to become advocates for their communities?
Be who you are and surround yourself with those who support you. Identities are complex and our ancestors are proud of who you are as a Native LGBT/Two Spirit person. You don't have to choose between these identities as you advocate for your community. Our indigenous ways have always taught us to bring our whole self to what we do.
What do you hope to see CNAY do in the future to support LGBTQ+, Native youth?
Through the Gen-I National Native Youth Network, we are working to engage as many Native LGBT/Two Spirit advocates as possible to identify opportunities for them to share their stories and resources through our platform. We are working with our partners at other organizations like the Northwest Portland Area Indian Health Board, NCAI, and others to identify the extent existing resources and to develop new ones. We would also like to eventually develop trainings for Native youth to be able to educate one another about these identities.