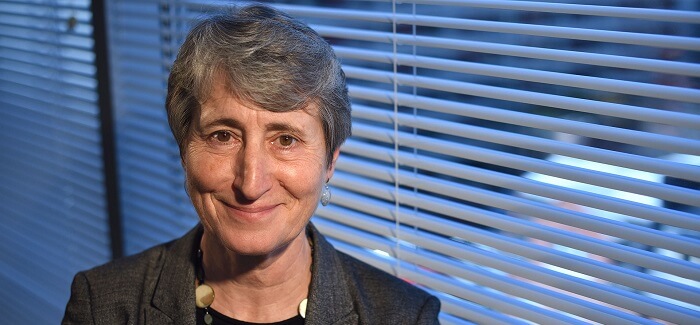 Sally Jewell Featured in Carnegie Corporation "Great Immigrants" Series
Every year near July 4th, Carnegie Corporation of New York honors the legacy of founder Andrew Carnegie by celebrating naturalized U.S. citizens whose extraordinary contributions are moving the country forward. This year, the Great Immigrants series featured former Department of the Interior Secretary Sally Jewell and highlighted her continued commitment to Indigenous youth as a Board Member for the Center for Native American Youth and strong supporter of Obama's Generation Indigenous initiative. Click here for the full story. 
Jewell talks with Erik Stegman, executive director of the Center for Native American Youth at The Aspen Institute, and Nikki Pitre, CNAY program manager.
SJ: "One of the most rewarding parts of my job as secretary of the interior was interacting with indigenous people across the country, especially Native youth. The challenges these young people face can be daunting, whether they grew up on a reservation, in a small village, or in an urban area, yet their perseverance and commitment to honoring and celebrating their cultures is amazing. The impact of immigration, forced assimilation, and settlement of Native lands is a dark chapter in our nation's history and we have an opportunity to help new generations rebuild pride in their heritage. CNAY facilitates connections between Native youth across the country through Generation Indigenous (Gen-I), helping young people honor their heritage and realize their dreams for a brighter future."
Jewell meets with Erik Stegman, the Center for Native American Youth's executive director, to discuss strategic planning and how — going forward — the organization can ensure that it serves the needs of Native American youth. CNAY was founded by former U.S. Senator Byron Dorgan of North Dakota after he decided not to seek reelection (he used some of his leftover campaign funds to begin the organization with a large gift); Dorgan is still very active in CNAY, serving on its Board of Advisors, as does Sally Jewell.