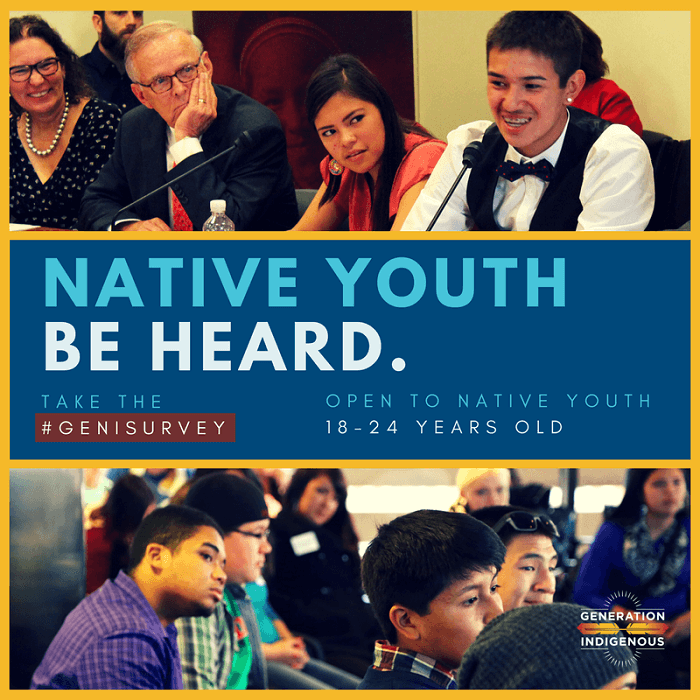 Share the #GenISurvey on Social Media
Thanks for being willing to share the Gen-I Survey with Native youth in your networks! As a reminder, the survey is only open to Native youth between 18 and 24 years old. Here are some sample posts that you can easily share on Facebook, Twitter, Instagram, or wherever you connect with youth online. We encourage you to tailor the language below to fit your needs, and use it alongside the image in this post. Contact cnayinfo@aspeninst.org if you have questions or need help.
Facebook: 
@Center for Native American Youth just released the second annual @genindigenous #GenISurvey! Native youth between the ages of 18 and 24 years old are invited to spend fifteen minutes taking the survey for a chance to win one of several big prizes, including the GRAND PRIZE of @NikeN7 gear! Follow the link to get started! https://www.surveymonkey.com/r/2017genisurveypart1. Must participate before 10/27 to be eligible to win.
*Note: @ indicates a profile tag. Be sure to confirm that you're tagging the correct profile before publishing your post. 
Twitter:
The #GenISurvey is back! 18-24yo #NativeYouth can win NIKE N7 GEAR by spending 15 mins sharing their perspectives! www.surveymonkey.com/r/2017genisurveypart1.
Calling #NativeYouth 18-24yo! Take @Center4Native's #GenISurvey before 10/27 for a chance to WIN #NIKEN7 GEAR! www.surveymonkey.com/r/2017genisurveypart1.
Instagram:
#NativeYouth: Take the 15-minute #GenISurvey to tell us about challenges, strengths, and resources in your community. You could win one of several cool #prizes like #NikeN7 #gear, @center4native #swag, and more! *Must be 18-24 years old to participate.* Brought to you by @genindigenous. Visit do.ready-for-feedback.com/thrively-digital/cnay for more.